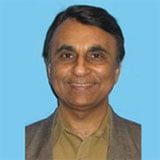 Shailesh Zaveri was born in India. As the oldest son of seven children, Shailesh had a modest upbringing. As his potential became clear, his grandmother and uncles took him in and helped with his education while his grandmother raised him. From this point forward, his grandmother served as a role model.
Her kindness and compassion are the same that Shailesh practices daily in his personal and professional life. After many years, his grandmother passed away from a heart attack. Wondering if the availability of medical intervention could have made a difference, Shailesh decided to pursue cardiology from this moment onward.
After completing his medical education at Surat Government Medical College, he completed an internship and cardiology fellowship at Advocate Christ Medical Center in Oak Lawn, during which he was lovely nicknamed "the professor" by his professors for his broad knowledge base and potential his field.
After his fellowship, he pursued an opportunity as a solo practitioner in Coles County, Illinois, where he touched many lives and helped many people. In 1983, he helped to establish the ME Ts cardiac rehab program in Sarah Bush Lincoln Health Center to improve outcomes for heart attack victims in central Illinois. Later, he was presented the-Vocational Service Award by the Rotary Foundation in 1999 and the Jefferson Award for Outstanding Public Service in 2004 for his volunteer work involving screening student athletes for cardiovascular conditions by interpreting echocardiograms for high school athletes for more than 10 years.
After 27 years of service in Coles County and surrounding communities, Shailesh and his wife moved back to Chicagoland to be closer to family, friends, and temples while practicing the career he loves. His passion continues by helping people at Hindu and Jain temples with his expertise in cardiology. He has three beautiful children -Jill, Rishi, and Phil. His wife Mayuri has been his office manager and partner in life, standing by him every step of the way, an integral part of Dr. Zaveri's outstanding success.